ALLIANT TECHSYSTEMS INC. (ATK)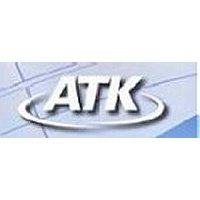 Hopkins, Minnesota, U.S.A.
http://www.atk.com
Products:
5.56mm Small caliber

ammunition

25mm M792 HEI-T/SD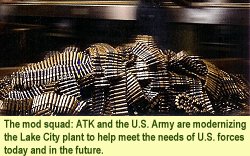 ATK and the U.S. Army are jointly implementing a modernization plan of the Lake City Army Arnmunition Plant designed to maintain its status as the premier small-caliber production site in the world. Built in the 1940's to supply World War II soldiers with the best ammunition anywhere, Lake City has provided ammunition to the U.S. forces in every conflict they have fought since then.
The facility modernization program is the foundation for strengthening U.S. small-caliber ammunition capability by increasing capacity, efficiency, and product quality.
"It will be a more consistent, reliable source of supply now and in the future, without risk of shortfalls in delivery," said Randy Wisian, Director of Modernization
The program's primary focus is to improve the electronics on the current machines to ensure high-quality ammunition and high-capacity production. In conjunction with electronics upgrades, ATK is modernizing many mechanical aspects of the production process. Because the current demand for small-caliber ammunition is so high, the
modernization effort is being implemented without shutting down manufacturing lines.
This is a difficult challenge but ATK and the Army are up to the task. "Our goal is to give U.S. forces the best ammunition in the world, while at the same time, delivering the best value to our customer and the American taxpayer," said Wisian.
To date, the U.S. Army and ATK have spent about $60 million on the Lake City Modernization Program. By March, 2006, the facility will be capable of producing 1.5 billion rounds annually - up from only 350 million rounds per year in 2000.